Brazilian Thrashers SEPULTURA have issued the following statement on
North American Tour Cancellation:
"Due to the delay in obtaining a visa for the band to enter the United States, we regret to inform all fans that the previously announced North American tour is being cancelled. We apologize to the fans, promoters, and the bands who were going to be part of the Tsunami Of Metal tour UNEARTH, KATAKLYSM, SCAR THE MARTYR, ANCIIENTS, and DARK SERMON."
Fans who purchased advanced tickets will be entitled to a full refund.
Released today in the U.S. & Canada, SEPULTURA's new album, The Mediator Between Head And Hands Must Be The Heart, was recorded with renowned producer Ross Robinson (KORN, MACHINE HEAD, FEAR FACTORY) and co-produced by Steve Evetts (THE DILLINGER ESCAPE PLAN, SYMPHONY X, INCANTATION).
The album can be streamed in its entirety on the Metal Hammer U.K.
website through November 1: http://www.metalhammer.co.uk/news/stream-new-sepultura-album-the-mediator-between-head-and-hands-must-be-the-heart/
Album bundles that include an exclusive t-shirt design can be ordered now from the Nuclear Blast USA Webshop: http://smarturl.it/tmbhahmbth-cddvd
Track listing: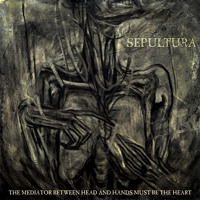 01. Trauma Of War
02. The Vatican
03. Impending Doom
04. Manipulation of Tragedy
05. Tsunami
06. The Bliss Of Ignorants
07. Grief
08. The Age Of The Atheist
09. Obsessed
10. Da Lama Ao Caos (Chico Science & Nação Zumbi cover)