The ninth wonder of the unnatural world, Sweden's technically intoxicating extreme metal quintet MESHUGGAH, are returning to North America this summer to celebrate their 25th year of musical deviance with festival appearances, Canadian dates, and clubs that will fill to capacity. Opening for them (on all but the two festival dates) will be North Carolina's Between The Buried And Me. 
MESHUGGAH aim to play a very special 25th Anniversary set by performing selections from their entire discography & possibly include some rare songs that haven't been played live in many years.
Plan to take time off your busy gaming schedule. Reacquaint yourself with what the outside world looks like. Drive to one of the following places. Get teleported into another universe. Enjoy the sounds, the sights, and the weightlessness of your newfound euphoria. You're welcome.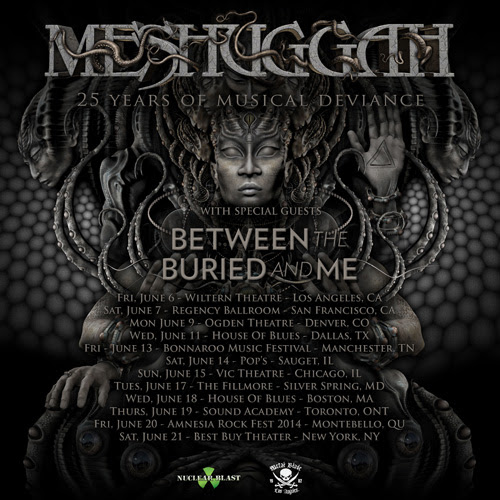 MESHUGGAH – 25 Years of Deviance tour dates
w/ Between the Buried and Me
06/06 The Wiltern – Los Angeles, CA
06/07 The Regency Ballroom – San Francisco, CA
06/09 Ogden Theater – Denver, CO
06/11 House of Blues – Dallas, TX
06/13 Bonnaroo Music Festival – Manchester, TN
06/14 Pop's – Sauget, IL
06/15 Vic Theatre – Chicago, IL
06/17 The Fillmore – Silver Spring, MD
06/18 House of Blues – Boston, MA
06/19 Sound Academy – Toronto, ON – CANADA
06/20 Amnesia Rock Fest – Montebello, QC – CANADA
06/21 Best Buy Theater – New York, NY 
Between The Buried And Me's ambitious concept album, "The Parallax II: Future Sequence," was the North Carolina-based band's highest Billboard chart position (#22) since their inception in the early 2000's. The album also landed the #3 spot on Billboard's Hard Music Album chart, as well as #8 on the trade magazine's Rock Album Chart, at #5 on Billboard's Indie Label Album chart and at #10 on the Billboard Indie Retail Album chart. Additionally, the album landed at #18 on Guitar World Magazine's top 50 albums of 2012 list. 
"The Parallax II: Future Sequence" can be purchased from the Metal Blade Records webshop & is available digitally on iTunes and Amazon MP3.
Between The Buried And Me videos:
"Astral Body" – https://www.youtube.com/watch?v=iRbnY8EK4Ew
"Telos" performance demonstration – https://www.youtube.com/watch?v=-IMbQhPjahY
"BTBAM tour NASA JPL" – https://www.youtube.com/watch?v=s_wGORDxtbE
http://www.betweentheburiedandme.com
http://www.facebook.com/BTBAMofficial
http://twitter.com/btbamofficial
http://www.youtube.com/btbamofficial